Posts in the Recipes Category
March 1, 2010 on 11:37 am | In
Blog
,
Press
,
Recipes
|
2 Comments
Here is a great article written by my friend Daniel Patterson about cooking with hay. I could go on and talk about cooking with hay but I could never do it as well as daniel so I am going to leave it alone and let you read his well written piece .
Straw man
A barnyard staple takes a surprising turn in the kitchen.
It's difficult to think of a product more symbolic of agrarian life than hay. As someone who has spent a fair amount of time tromping around farms, I've seen quite a bit of it—in barns, bundled in fields, used in displays—but I'd never thought of hay as a culinary ingre dient. Until now.
Hay is one of the most exciting and unexpected additions to my pantry in recent memory. It's not a new idea, though: Hay has been used for centuries in French and Italian cooking, where large cuts of meat are buried in it and roasted either in the oven or in the dying embers of a fire.
In this country, hay has traditionally played a supporting role. The hay-box cooker has been used for more than 100 years, particularly during World War II as a way to conserve energy. The technology is simple: Bring a covered pot—preferably heavy metal or ceramic—full of food and liquid to a hard boil, then transfer it to a box packed with hay and cover it. The hay keeps the heat in the pot, so in four to eight hours, the stew will be cooked, sans fossil fuels.
From a practical standpoint, hay makes a great cooking medium, keeping heat in and diffusing temperature changes. But it's the flavor that makes hay an extraordinary ingredient to work with. The taste is sweet and herbaceous, and the aroma is incredible, evocative of farms, pastures, and spaces vast and green and far removed from the city.
The idea came from a conversation with my sous-chef. We were trying to find a new way to cook carrots, and he recalled working in a restaurant in France where the chef cooked pork with consommé and hay for hours at a low temperature, until the meat was tender and the broth an elixir. It seemed like roasting carrots in hay would yield similarly delicious results, so the next weekend at the farmers' market, I found myself shoving a gigantic bale of hay into the backseat of my car.
Back at the restaurant, we used the hay to made a stock. We burned some of the ends first, to give the stock deeper flavor, then covered the hay with water and let it simmer for about an hour. We tossed in young carrots with olive oil and salt, then combined them with hay and a little hay stock in a heavy enameled-iron pot and cooked them for about 30 minutes at 300°F, until they emerged tender and aromatic. It's a simple process that can be done with any root vegetable.
Hay has made occasional appearances on American menus over the years. Chris Cosentino, the chef at Incanto, recalls a dish offered years ago at Red Sage, in Washington, D.C., where leg of goat was covered with a mixture of hay and clay, then baked—another traditional European technique. Cosentino, who was inspired to buy his own hay, first used it to cook a whole leg of pork. His menu currently features rabbit braised in hay that he serves with nettles and carrots. "People love the flavor," Cosentino says, "and the aroma is amazing. Every time we pull one out of the oven, you can smell it across the dining room. It's intoxicating."
There's not much to know about cooking with hay. The easiest way to use it is to throw a little into a stew as it simmers, then remove it before serving. If you roast with it, you should first soak the hay in water, then lay it down as a thick bed for the meat or vege­tables. Burning the ends of the hay will give the dish subtle smokiness and depth. You can cover your main ingredient with the hay or not; adding a bit of liquid to the pot will ensure that it doesn't burn. And if you're considering eating the hay itself, I wouldn't. The flavor is great, but unless you're a farm animal, the texture leaves much to be desired.
Most farms and farm-supply stores carry hay, but because you'll use it in direct contact with food, make sure it hasn't been treated with chemical pesticides. And beware: Before you place your order, stake out some serious storage space. A bale of hay is enormous.
At Coi, we haven't made much of a dent in our stash, which means that there will be hay on the menu for quite a while. So far, we've infused oil with hay and used it to confit suckling pig, reserving some of the oil to drizzle into the sauce. We've ground salt and hay together to make a crust for beets. We've infused it into onion soup, its presence magically transforming a standard flavor into something fascinating and delicious. Hay might not be the same workhorse in the kitchen that it is on the farm, but in my pantry, hay has found a comfortable second home.
CHRIS COSENTINO'S
Rabbit braised with hay
The chef at Incanto likes to poach baby carrots in the braising liquid to serve alongside the rabbit.
INGREDIENTS
2 2½- to 3-lb. rabbits, each divided into six pieces
Salt and freshly ground black pepper
½ cup flour
3 Tbsp. olive oil
1 onion, peeled and cut in half
1 carrot, peeled and cut in half
1 head fennel, cut in half
1 head garlic, cut in half
½ cup white wine
1 fresh bay leaf
1 handful of hay
2 qt. chicken stock
DIRECTIONS
1. Heat the oven to 250°F. Season rabbit pieces with salt and pepper, then dust lightly with flour.
2. In a Dutch oven, heat the oil over medium heat. Sear the rabbit pieces one or two at a time, taking care not to crowd the pan. When the pieces are golden brown, remove and set aside.
3. Add the vegetables and cook until they just begin to brown.
4. Add the wine, bring to a boil, reduce to a simmer, and let cook until it's reduced to about 2 tablespoons, occasionally scraping the bottom of the pan to loosen any browned bits.
5. Add the bay leaf and hay. Set the rabbit pieces on top of the hay, add the chicken stock, cover the pan, and braise in the oven until the rabbit is tender, about 1½ hours.
6. Transfer the rabbit pieces to a platter and serve warm.
Makes 6 servings
---
Daniel Patterson
is the chef-owner of Coi and a partner at Cane Rosso.
February 23, 2010 on 2:23 pm | In
Blog
,
Press
,
Recipes
|
1 Comment
F&W's editor in chief  Dana Cowin challenges some of her favorite chefs, all masters of indulgent food, to create healthy recipes that even a sausage fetishist would lust after.
By Dana Cowin
Burgers. Fried chicken. French fries. Steak. On menus worthy of dozens of passionate reviews by bloggers and Yelpers, these are the dishes that generate the buzz. I love these foods. Love.
Some people will travel to France to eat at a Michelin three-star restaurant—and I'm not saying that I wouldn't—but I've always been just as happy to travel anyplace I'm promised great fried chicken. In Manhattan, I've cracked the crust on the spicy Korean-style wings at Mad for Chicken on 32nd Street, and I've rhapsodized about the delicate version at Jean-Georges Vongerichten's Perry St., where his son, Cedric, is chef; I've also gorged on splendid fried chicken all around Nashville. So it's with tremendous respect for these marvelous dishes that, as editor-in-chief of F&W, I pose this challenge: Chefs, can you please lighten your food?
While dishes like fried chicken and their buttery or carb-loaded counterparts are super-popular and well-priced, I actually don't want to eat three days' worth of calories in one sitting. I've gradually lost a taste for too much of that kind of food, and I believe other people eventually will, too. Yes, most restaurants offer a green salad (which, depending on the dressing or mix-ins, still might not make Dr. Oz happy) or a simple vegetable side dish (which often comes with liberal amounts of cheese or pancetta, or both). And yes, there's usually some kind of fish, but eating it generally feels like a compromise when everyone else at the table is poking their hand-cut, twice-fried chips into house-made ketchup and figuring out how to get their mouths around an unusually large lamb slider. Why can't foods that are good for you be as cravable as the deep-fried, bacon-wrapped hot dog at Manhattan's PDT?
One common reply to that question is that fat equals flavor. But what about Thai food? That's got a lot of flavor—bitter, salty, sweet, sour—and, in general, relatively little fat (just look at Su-Mei Yu's recipes). Or Japanese food: It's clean, and its flavors are bright. But, of course, those aren't iconic American cuisines, which brings us to the second-most-common answer: People yearn for the foods of their childhood, and for many Americans, that means the hot dogs and hamburgers their parents grilled on the Weber in the backyard. Still, I don't buy it. My favorite fried chicken is the kind I ate at home growing up, but I'm not thinking about that when I reach for the fourth wing at Mad for Chicken. I want it because it tastes fantastic.
Can't something taste sublime without a burdensome amount of fat and calories? To find out, I went to some of my favorite chefs, the ones who have a cult following for their super-indulgent dishes, and asked them to create recipes that even a sausage fetishist would lust after. What I discovered at first isn't exactly breaking news, but I'll share it here anyway: Chefs don't have a particularly good sense of fat grams or calorie counts. One chef suggested a recipe for a ravioli stuffed with parsnip and bone marrow (bone marrow is mainly fat). But one lovable quality of chefs is that they're creative and solution-oriented. After some back-and-forth, F&W senior editor Kate Heddings had gathered a collection of six healthy recipes with that wow factor.
"I think chowder is the way to go," said chef Linton Hopkins of Restaurant Eugene and Holeman and Finch Public House in Atlanta. "The very word chowder makes your mouth water." This from a guy who adorned the entry of Holeman and Finch with a custom-made glass curing case full of pig legs. He came up with two ways to get a chowder's creamy consistency without fat: adding cubed potatoes and using buttermilk. In Chicago, the Publican's Paul Kahan chose spelt flour as his secret weapon (spelt is a grain that's high in protein and fiber) after watching Chris Bianco of Phoenix's Pizzeria Bianco—"a yeast-and-flour genius," says Kahan—make spelt bread. Kahan's spelt focaccia topped with squash, kale and just a few shavings of nutty pecorino is so good, I'd eat it like a pizza or as an appetizer/side dish combination.
At Gautreau's in New Orleans, Sue Zemanick cooks indulgent dishes, but in her off-hours, she has a distinctly lighter approach. And in fact, when I spoke to her, she was just coming off a 13-day cleanse, vowing to do it four times a year. That disparity was so extreme that I was particularly impressed she was able to retain the essence of the food at Gautreau's when coming up with a lightened recipe for grilled pork tenderloin with vegetable curry. In place of coconut milk (one cup of which has 552 calories, 479 of them from fat), she chose coconut water (more often thought of as a drink than a cooking ingredient) and combined it with two tablespoons of full-fat sour cream to get that luscious feeling. It's a trick the F&W Test Kitchen is sure to remember and use in the future.
What I discovered from this group of recipes, perhaps not surprisingly, was that these talented chefs could make amazing healthy food. And some of them even had healthy dishes on their menus. For a while, Laurent Tourondel, who serves incredible beef and addictive onion rings and popovers at 11 BLT Steak restaurants around the world, offered a Thai green mango–crab salad. Did customers like it? I asked him. "It didn't move," he replied. "When people go to a steak house, they want steak. I love the crab salad, but they want steak." Chris Cosentino of San Francisco's offal-centric Incanto, though, had a different experience: His sardines are hugely popular. But perhaps that's because bony, whole-fishy, charred sardines fit into the offal-lover ethos.
And this is the crux of the dilemma. When a healthy recipe matches the mood of the restaurant, it works. But right now, at most of the popular foodie establishments in America, light foods don't make sense. What we need is a new paradigm: hip, affordable restaurants with a great vibe that reinvent healthy food and make it as cravable as a cheeseburger. I believe that change will come eventually, but until then, I'm going to be picking out the stealthily healthy dishes at restaurants—and making these phenomenal recipes at home.
Roasted Sardines with Olives, Capers and Parsley
Recipe by Chris Cosentino
Chris Cosentino of San Francisco's Incanto is known for his offal dishes but a hearty fish like sardine, served whole, can also appeal to the nose-to-tail crowd. Cosentino pan-fries the omega-3-rich fish with an exhilarating mix of olives, capers, lemon zest, parsley and chiles. To make this more of a main course, he prepares a crunchy salad of artichokes and sunchokes to eat alongside.
Pairing SuggestionFish rich in omega-3s go best with unoaked wines with few tannins. For Cosentino's tangy roasted sardines, try pouring a bright New Zealand Sauvignon Blanc, like the citrusy 2009 Brancott Marlborough, or a very light red, like the cherry-scented 2008 Georges Duboeuf Beaujolais-Villages.
Roasted Sardines with Olives, Capers and Parsley
TOTAL TIME: 45 MIN SERVINGS: 6
FAST HEALTHY STAFF FAVORITE
INGREDIENTS
1 lemon, halved, plus 1 teaspoon finely grated lemon zest and 2 tablespoons fresh lemon juice
6 baby artichokes
3/4 pound sunchokes, scrubbed but not peeled
3 tablespoons canola oil
18 fresh sardines (about 2 ounces each), cleaned and scaled
Salt and freshly ground pepper
2 garlic cloves, thinly sliced
3/4 cup green olives, such as Cerignola, pitted and chopped
3 cups loosely packed flat-leaf parsley leaves
2 tablespoons chopped oregano
2 tablespoons capers, drained
2 serrano chiles, seeded and minced
4 cups baby arugula (4 ounces)
2 tablespoons extra-virgin olive oil
DIRECTIONS
Preheat the oven to 400°. Fill a large bowl with water and squeeze the lemon into it. Snap off the green outer leaves of the artichokes until you reach the yellow leaves. Cut off the top third of each artichoke. Using a mandoline or a food processor fitted with the slicing blade, thinly shave the artichokes. Add them to the lemon water. Shave the sunchokes into the lemon water.
In a very large ovenproof skillet, heat the canola oil until nearly smoking. Season the sardines lightly with salt and pepper and add them to the skillet. Cook for 3 minutes, then flip the sardines and add the garlic, olives, parsley, oregano, capers, chiles and lemon zest. Transfer the skillet to the oven and roast the sardines for about 5 minutes, or until cooked through.
Drain the artichokes and sunchokes and pat dry. Return them to the bowl and add the arugula, olive oil and lemon juice. Season lightly with salt and pepper. Transfer the sardines and salad to plates and serve.
NOTES
One Serving 330 cal, 22 gm fat, 3 gm sat fat, 17 gm carb, 3 gm fiber, 19 gm protein, 810 mg sodium.
December 17, 2009 on 12:15 pm | In
Blog
,
Recipes
|
1 Comment
Sorry for the lack of writing as of late I have been a bit busy with some great new things for the upcoming year. I swear they will be really cool.
But to keep you in the holiday spirit I have including a recipe I did for our holiday ham that was featured on SF Foodie.
Holiday Recipe Hookup: Chris Cosentino's Red Bull and Rye Whiskey Glaze for Ham
By John Birdsall, SFoodie Editor
Elise Bauer/Flickr
Chris Cosentino
Holiday time, and the party that seemed like such a good idea last month is now keeping you awake at 3 a.m., wondering what the hell you're going to make without embarrassing yourself. Fear not. We've asked some of our favorite local chefs to hook you up with easy-to-fix dishes that'll kill your potluck panic and let you focus on fun stuff. Like drinking.
What's a meatatarian's holiday buffet table without a glazed ham? Sad, that's what. Only, instead of one of those flabby, saccharine, spiral-cut factory monsters, you can show off a real-live artisanal specimen ― like the Prosciutto Cotto (i.e., "cooked ham") from chef Chris Cosentino's Boccalone Salumeria in the Ferry Building. It's brine-cured with sugar and spices. Likewise the Red Bull Simply Cola in Cosentino's glaze is flavored with a mashup of spices, kola nut, and ― for those of you who love a party ― actual coca leaf. By the way, you can preorder a Prosciutto Cotto from Boccalone up until this Sunday, Dec. 20, for pickup Dec. 23 or 24. Call 433-6500.

Chris Cosentino's Red Bull Cola and Old Potrero Rye-Glazed Ham
Makes 6-8 servings
2 whole cloves
1 cup packed dark brown sugar
1/2 cup Old Potrero rye whiskey
6 cups Red Bull Simply Cola
1 boneless cooked ham, approximately 3 ½ pounds ― preferably Prosciutto Cotto from Boccalone
Preheat oven to 325°F.
Make the glaze: Combine the cloves, brown sugar, whiskey, and four cups of cola in a medium saucepan. Heat over a low to medium flame, stirring, to reduce by three-quarters.
Place the ham in a large roasting pan and brush with the cola-whiskey glaze. Pour the remaining two cups of cola into the bottom of the roasting pan around the ham. Baste the meat with the cola and bake, basting every 15 minutes with pan juices, until it is warmed through, and a meat thermometer registers 165°F.
Remove from the oven and let rest at least five minutes before carving. To serve, slice the meat thinly across the grain and arrange on a platter.
November 2, 2009 on 12:59 pm | In
Blog
,
Recipes
,
Resources
|
No Comments

To some the idea of a spreadable salumi is
a bit out there, to me it's perfectly rich, spicy, porky goodness. Nduja is  a classical salumi from Calabria that has spread its way into my heart and others around the country. The most commonly asked question is what do I do with it? There are so many uses; pizza, crostini, bruschetta.  So, here are a few recipes to keep everyone busy for a while, one is from me and the other from the great pastry chef and italophile Gina Depalma.
Continue reading Nduja the spicy spreadable meat treat…
August 5, 2009 on 10:59 am | In
Blog
,
Offal
,
Press
,
Recipes
|
2 Comments
please check out the word of mouth NPR show I was interview by Virginia Prescott about offal cookery and the sustainability of it all.

Click on the image to hear the show.
August 3, 2009 on 10:46 am | In
Blog
,
Recipes
|
2 Comments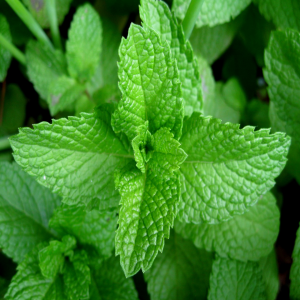 I love mint, and there is no if's, and's or but's about it. More importantly, I have found it to be the most widely used herb in Italy. After doing a lot of research I found a few cool bits of info I thought would be great to share.
The mint family, also known as Lamiaceae or Labiatae, is a large family of aromatic herbs which include the likes of basil, rosemary, sage, savory, oregano, thyme, marjoram, and lavender. I use all of these herbs with frequency, but I can't get enough of the mints. With over 25 species and hundreds of varieties such as bergamot, chocolate, citrus, pineapple, spearmint, and nepitella just to name a few, their range of use is immeasurable. Attached below is a post by the great pastry chef Gina Depalma from Serious Eats.
Continue reading Mint love!!!…
July 31, 2009 on 11:32 am | In
Blog
,
Press
,
Recipes
|
1 Comment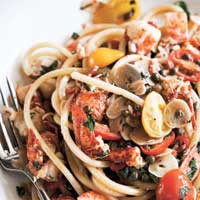 Photo credit:
Deft Chef
By Michael Frank
When Cosentino couldn't source the meat he wanted for his restaurant, he didn't change his recipes—he changed the system. That's typical of the 37-year-old executive chef of the widely acclaimed Incanto, in San Francisco's Noe Valley, which specializes in Italian cuisine—and an array of meat and fish dishes that some would term adventurous. "Things like blood sausage, jowl, salumi, headcheese—these are as old as time in Italian cuisine," Cosentino says. He explains that his need for these and other unique items on his menu prompted in-house dry curing, which snowballed into a business all its own. Boccalone Salumeria, purveyor of "tasty salted pig parts," as the firm's tagline reads, now features both online and storefront distribution (the latter in San Francisco's renowned market in the Ferry Building).
Cosentino doesn't see anything extraordinary in taking over an entire USDA meat-processing facility in Oakland to stock Boccalone, just as he doesn't think it's challenging to cook recipes that span the breadth of Italy. "I'm just cooking seasonally," he says. Maybe after racing 24-hour solos on a singlespeed against pros—as Cosentino did during the late 1990s and early 2000s—he learned to appreciate stiff challenges. Or maybe it's just that he's used to taking chances, like in 2001, when he quit his career as a chef to race full time. "I'd get up at 5 a. m., ride, work five hours at the farmers' market, then ride home— and then get in 120 miles."
Those farming relationships—"those were my sponsors. The ranchers gave me meat, the farmers gave me vegetables"—are still the backbone of Cosentino's success at Incanto. "Your food doesn't come from Whole Foods," he says. "Food is somebody's livelihood; getting to know who grows your tomatoes is no different than getting to know the owner of your bike shop."
In case you missed it, Cosentino isn't shy about his agenda. "We've lost the basics of food and family," he says, "of traditional recipes and of understanding how to cook by using every part of an animal. People say that's just theater, that I'm obnoxious by suggesting people try warthog asshole or a piece of foie gras. I say judge me by what's on the plate, by how it tastes."
Post-Long-Ride Feast
Lobster Puttanesca
Salt, to taste
2 1-lb. lobsters
2 tablespoons extra-virgin olive oil
2 tablespoons garlic, slivered
2 red Fresno chilies, sliced
1 tablespoon capers
22 anchovy fillets, salted and packed in olive oil
1/3 cup fresh basil, roughly chopped
1/3 cup fresh mint, roughly chopped
1 pint cherry tomatoes, cut in half
Freshly ground black pepper
1 tablespoon fresh lemon juice
1/2 lb. bucatini pasta
This is a fast-cooking dish, so have all ingredients ready before you begin. Prepare an ice-water bath to shock the lobsters after cooking.
In a pot, bring to a boil one teaspoon of salt and enough water to cover the lobsters. (At this time, boil another pot of water to cook the pasta.) Add the lobsters and blanch for four minutes; remove and add to the water bath. When the lobsters are cool, remove the meat from the tail, claws and knuckles. Cube it and set aside. In a saute pan over medium heat, add the olive oil, garlic and chilies, then the capers and anchovies, stirring constantly for about two minutes. Add the lobster meat and cook for two minutes (and put the pasta into the boiling water; cook until al dente), then add the herbs and tomatoes. Finish with lemon juice and extra olive oil if desired.
Add salt and pepper to taste, and serve immediately over pasta. Serves: 2
CALORIES PER SERVING 1,145
FAT 19.6g
CARBS 184g
PROTEIN 58g
More From Cosentino
WORST RACE INJURY: "I crashed at night in Winter Park [Colorado] and popped my patella. They popped it back, and I finished."
CURRENT BIKE: A Retrotec Half
FUTURE BIKE: "Inglis is building us a hot-dog bike with a warming chamber so we can serve Boccalone hot dogs at the ballpark."
EAT AT INCANTO: 1550 Church Street, San Francisco; 415/641-4500; incanto.biz
September 4, 2007 on 5:34 pm | In
Recipes
|
15 Comments
The idea for most of eating brains brings back memories of the original movie Return of the living dead.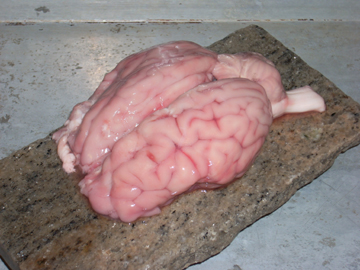 Raw calfs brain about to be poached.
So most people moan and scream like a zombie and act like an ass instead of having the opportunity to enjoy this beautiful creamy cut. Here I will show a recipe for brains, so order your brain fork which any self respecting offal eater should own one of these. Turn on your favorite zombie flick and get ready to eat some delicious brains.
Continue reading Brains!!!…
September 2, 2007 on 10:43 pm | In
Recipes
|
10 Comments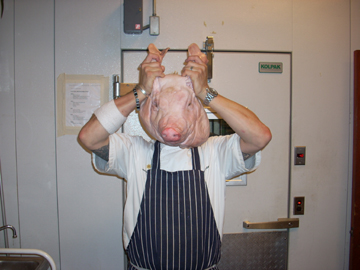 To me every part of a pig is absolutely delicious. This head and some bits were dropped off to me on Friday. They came from a duroc hog from biagio a Sonoma meat co-op run by Michael. These parts were put to use quickly for a new dish for the menu Saturday.
Continue reading Delicious pig parts…
Next Page »
Powered by WordPress
Entries and comments feeds. Valid XHTML and CSS. ^Top^